Tulip Tree Family Health Care is committed to improving the health of individuals by offering high quality, affordable services regardless of income.
Tulip Tree Family Health Care provides primary health care, dental care, behavioral health, and other related services, including education, diagnosis and treatment through a community facility.
Provide exceptional, accessible and affordable healthcare that improves the quality of life for our patients and the well-being of our community.
Respect, Understanding, & Compassion
Every Patient
Every Employee
Every Person
Every Day
Steve Welp, President
Amy Ketzner, Vice President
George Ballard, Secretary
Bill Pigman, Treasurer
Mary Thompson
Beth Barchet
Zuniga Kluesner
Patricia Williams
Nicholas Burns
Beth Sailor
Sandra Hicks
Kyle Marshall
Celeste Conway
Kristine Georges, Executive Director
Kristine became Executive Director on October 1, 2019 after joining Tulip Tree in April as Compliance and Quality Manager.  Kristine has over 13 years of experience in healthcare management and quality/compliance with area hospitals.  She is a graduate of USI.  As Executive Director, she is responsible for leading the clinic strategically and operationally in compliance with all applicable regulations.  Kristine understands and appreciates the uniqueness and complexity of Tulip Tree and its patient population and is committed to its mission.  Kristine reports to the Tulip Tree Board of Directors.
Maureen Shepherd, Development Director
Maureen joined Tulip Tree Family Health Care in 2012 as Administrator, which evolved into the Executive Director position in 2015.  As Maureen transitioned to semi-retirement, she moved into a part-time role focused on grants, fundraising, and as a resource to the management team.  She has worked in healthcare and non-profit administration for over 30 years, primarily in clinical management and program development.
Kimberly Thompson RN, Clinical Supervisor
Kim assumed responsibility for the clinical operations of the medical program in January 2020.  She supervises Tulip Tree's clinical team and provides support to the medical providers.  Kim is experienced in clinic operations in an FQHC setting.  She focuses on assuring patient satisfaction in an environment based on quality initiatives,  coordinated care, and is passionate about patient education.  Kim is a Gibson County native and recently returned to Indiana after many years living abroad.  Kim earned her ASN, RN at Northwest Florida State College and her BSN via Harrison College.  Kim is also an Air Force veteran.
Carrie Conklin, Office Manager
Carrie has been with Tulip Tree Family Health Care since 2008, moving to a full time role in 2014.  Carrie has extensive experience in office operation and physician billing.  She is responsible for the front office team, billing and collections, provider credentialing, and other key areas of back office operations.
Skye Coomes, DHYG, Dental Program Manager
Skye began working as a dental hygienist  at Tulip Tree in 2014.  In 2017, as our dental program expanded to five days a week and three dentists, Skye was promoted to the position of Dental Program Manager.  She carries the responsibility on a part-time basis while continuing as a dental hygienist.  Skye manages the dental team and provides support for our dentists.  She is responsible for quality initiatives, patient satisfaction, and day-to-day operations.
All of our providers are committed to providing compassionate, comprehensive care for their patients.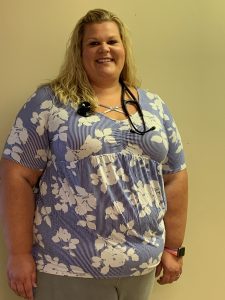 Megan Tate, FNP-C
Megan joined Tulip Tree in July of 2020.  She graduated as an ASN Registered Nurse from Ivy Tech and then completed her BSN through the University of Southern Indiana and received Advanced Nurse Practitioner degree in Family Practice from Chamberlain University.    Megan completed some of her clinical studies at Tulip Tree in 2018 and is familiar to some of our patients.  Megan is a full-time provider and sees patients Monday-Friday.  As a Family Practice provider, she can treat patients of all ages for all primary services.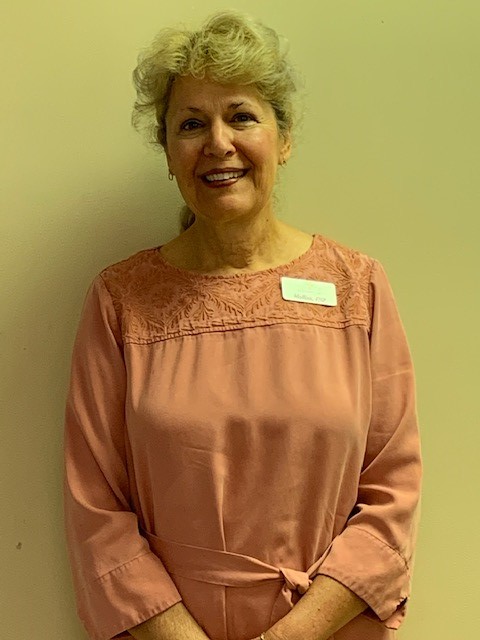 Mellisa Hall DNP, FNP-BC
Mellisa joined Tulip Tree in 2005.  She has been a Nurse Practitioner for more than 20 years.  Mellisa works on a part-time basis in coordination with her full-time position as Chair of the Masters of Science in Nursing Program at USI.  She sees long-term patients as well as newer patients at Tulip Tree.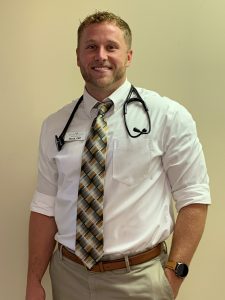 Heath Kohlmeier MSN, FNP-C
Heath joined Tulip Tree in late December, 2018 and began seeing patients in 2019.  He graduated as a Registered Nurse from Indiana University and received his Advanced Nurse Practitioner degree in Family Practice from Vanderbilt University.  Heath completed some of his clinical studies at Tulip Tree earlier in 2018 so he is familiar to many of our patients.  Heath is a full-time provider and sees patients Monday-Friday.  He is a native of Oakland City in Gibson County and looks forward to serving his community and neighbors as their provider.  As a Family Practice provider, he can treat patients of all ages for all primary services.
Terry Gehlhausen DO
Dr. Gehlhausen joined Tulip Tree as its Medical Director in 2019.  He does not see patients but works in collaboration with Tulip Tree's Nurse Practitioners.  He provides required chart review and is available for medical consultation on complex cases.  Dr. Gehlhausen has practiced medicine in Gibson County for many years.
Bruce Brink Jr. DO
Dr. Brink serves as Assistant Medical Director.  He has a full-time family practice in Princeton.  He has been involved with Tulip Tree since its beginning.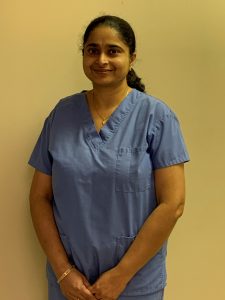 Naga Alapati DDS
Dr. Alapati joined Tulip Tree's dental program as lead dentist in 2015.  She is a graduate of the New York University School of Dentistry.  Dr. Alapati enjoys working with dental patients of all ages and is committed to improving access to dental care in our community.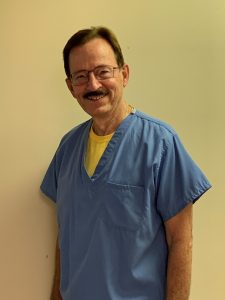 David P Walters DDS
Dr. Walters retired from his full-time practice in Princeton but still enjoys using his dentist skills.  He joined the Tulip Tree dental team late in 2016 so he could continue to give back to his community by providing dental care to those who have limited access.
Erin joined Tulip Tree in November 2018.  She began her work in health care in the area of mental health upon receiving her degree in Psychology from the University of Evansville.  She then obtained a BS in Nursing from the University of Southern Indiana and worked in hospital critical care and mental health positions.  Her interest in mental health led her to obtain an Advanced Practice Nursing degree specializing in Psychiatric and Mental Health Care from USI.  With this training, Erin can provide psychiatric care for patients struggling with mental health, behavioral health, and/or addiction issues.  This includes prescribing appropriate medications and working closely with Tulip Tree's primary care medical providers to best serve the patients.  Erin completed some of her clinical work for her degree at Tulip Tree.  Our mission and the needs of our patients helped her decide that this is where she wants to use her skills to help others.
Ethel joined Tulip Tree in 2013 when we opened our small behavioral health program to serve Tulip Tree patients.  She provides counseling services one day per week to individuals and families.  Ethel works full-time at USI as a professor in the Health Services Program.  She is a graduate of USI School of Social Work.